Best Buy has done the equivalent of declaring nuclear war on its competitors by offering to match the lowest price of any other bricks and mortar or internet retailer.
Best Buy has long prided itself on staffing its stores with knowledgeable sales people who educate consumers on the vast display of products stocked in the store.  In return, many consumers, after deciding on what to buy simply scan the product code with a smart phone, find a lower price and after a few clicks, complete their purchase with another retailer.   Best Buy became the de facto showroom for internet retailers such as Amazon.  Today's announcement by Best Buy is an aggressive attempt to stop showrooming and capture sales that previously went to lower priced competitors.
Retailing is a notoriously cut throat business and Best Buy has been getting steamrolled by the competition.  Losses during 2012 exceeded $1 billion and Best Buy's stock has been in a steady downward spiral for two years.  In an attempt to turn things around, Best Buy had announced a price matching policy during the 2012 Christmas selling season.  Today's announcement by Best Buy makes the price matching policy permanent.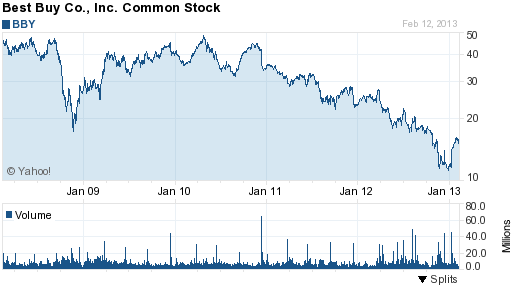 Although Best Buy has had its share of problems lately, it remains the largest bricks and mortar electronics retailer with annual sales of over $50 billion.  Today's decision not to be undersold could be the trigger that launches a comeback for Best Buy.  The economy and income growth remain weak and the ability to compete aggressively on prices is a key determinant of where the consumer winds up spending his money.
Will today's nuclear pricing declaration by Best Buy translate into increased sales?  Here's one example comparing prices between Best Buy and Amazon for a ZVOX home theater system.  Best Buy's price of $399.98 is a penny lower than Amazon, so the buying decision becomes focused not on price but rather on ease of ordering, delivery, sales taxes and other incentives.
Best Buy
$399.98
6-Month Financing

Get 4% Back in Rewards: See How
ZVOX – Z-Base 555 2.1-Ch. Home Theater Speaker System
Model: 4005551
SKU: 3868476
Not Available for Shipping
Amazon
Usually ships in 1 to 3 months

More Buying Choices

$399.99

new

(2 offers)
Who has the better deal depends on the following factors:
Amazon orders usually arrive within one or two days.  I purchased the above product in January and it was delivered the third day after I put in my order.  Currently, Amazon appears to be out of stock on this item since it shows a shipping time of 1 to 3 months. Shipping is free from Amazon using Amazon Prime.
Although Best Buy offers free shipping, the ZVOX is only available with store pick up.  If you need to make a special trip to pick up the item, that adds to the cost, especially with gas at almost $5 per gallon.
Sales tax can add considerably to the cost.  If you are in a state with an 8% sales tax, a purchase from Best Buy would add about $32 to the cost.  Although Amazon caved in to pressure from certain states to collect sales tax, purchases in many states can still be done without paying sales tax.
Best Buy and Amazon both offer free financing for six months using their branded credit cards. Best Buy adds an additional incentive with the offer of Reward Zone points worth about $16.
All things considered, pricing by Amazon and Best Buy is extremely competitive on this product, but Amazon clearly out scores Best Buy when considering the convenience and time factors.  A few clicks on Amazon completes the purchase without the hassle of having to drive to Best Buy and then wait in line to pick up your purchase.  On the other hand, if you want to check out the latest electronic products along with some insights from a real person, Best Buy is the better option.
Best Buy's latest pricing initiative seems to have greatly narrowed the pricing disparities that used to exist between Amazon and Best Buy.  If Best Buy's policy translates into higher sales while maintaining gross margins, Best Buy stock might just be a great value at this point.