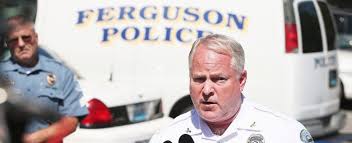 St. Louis, MO – Ferguson Police Chief Tom Jackson told reporters today that the Ferguson Police Department stands ready to train White House Secret Service Officers.  Jackson's offer comes in the aftermath of the embarrassing failure of the Secret Service to prevent a fence jumper from sprinting into the White House.
Chief Jackson boasted that the Ferguson PD has proven methods for dealing with people before they get a chance to break the law.  "I can tell you that had our officers been on the scene, this guy would have never had the chance to jump over the fence to begin with.  You can't just let people walk around waiting for them to break the law before taking decisive action."
The Chief also said that he tried to call Secret Service Director Julia Pierson directly but her phone didn't seem to be working.