The financial crisis delivered painful blows to the portfolios of virtually every investor, but none may have suffered more than investors in banking stocks.  From the highs of 2007 to the lows of early 2009, the average bank stock, as represented by the KBW Bank Index, dropped by almost 90%.  The situation was even worse for investors in banks that wound up failing since they incurred losses of 100% with no chance of ever recovering their losses.
Since the lows of early 2009, bank stocks recovered significantly, but are still 50% below the highs of 2007.   Although bank earnings have now increased for the past 13 consecutive quarters, investors remain skeptical of the long term prospects for bank stocks.
Just as 2007 was the worst possible time to be invested in bank stocks, 2013 may turn out to be one of the best.  Every successful investor understands the concept of contrary thinking.  You don't make money on the stocks that every analyst in the world is recommending since the stock price already fully discounts all the good news.  When everyone agrees that a particular stock is a great investment and is already invested in the stock, only the greater fools are left to do the buying.
After a recovery from the panic lows of early 2009, bank stock have been consolidating for two years and could be on the verge of a major breakout as can be seen in the chart below.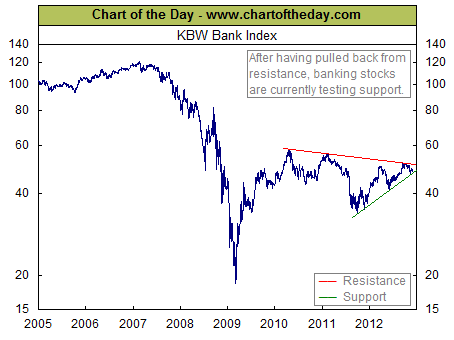 Confirming the recovery in bank shares, giant Bank of America recently broke above the psychological level of $10 per share.  All of the numerous problems at Bank of America are fully known and have probably been fully discounted at this point.  Bank of America has tremendous earnings potential and even a small recovery in housing prices along with a stronger economy could result in a huge surge in profits.