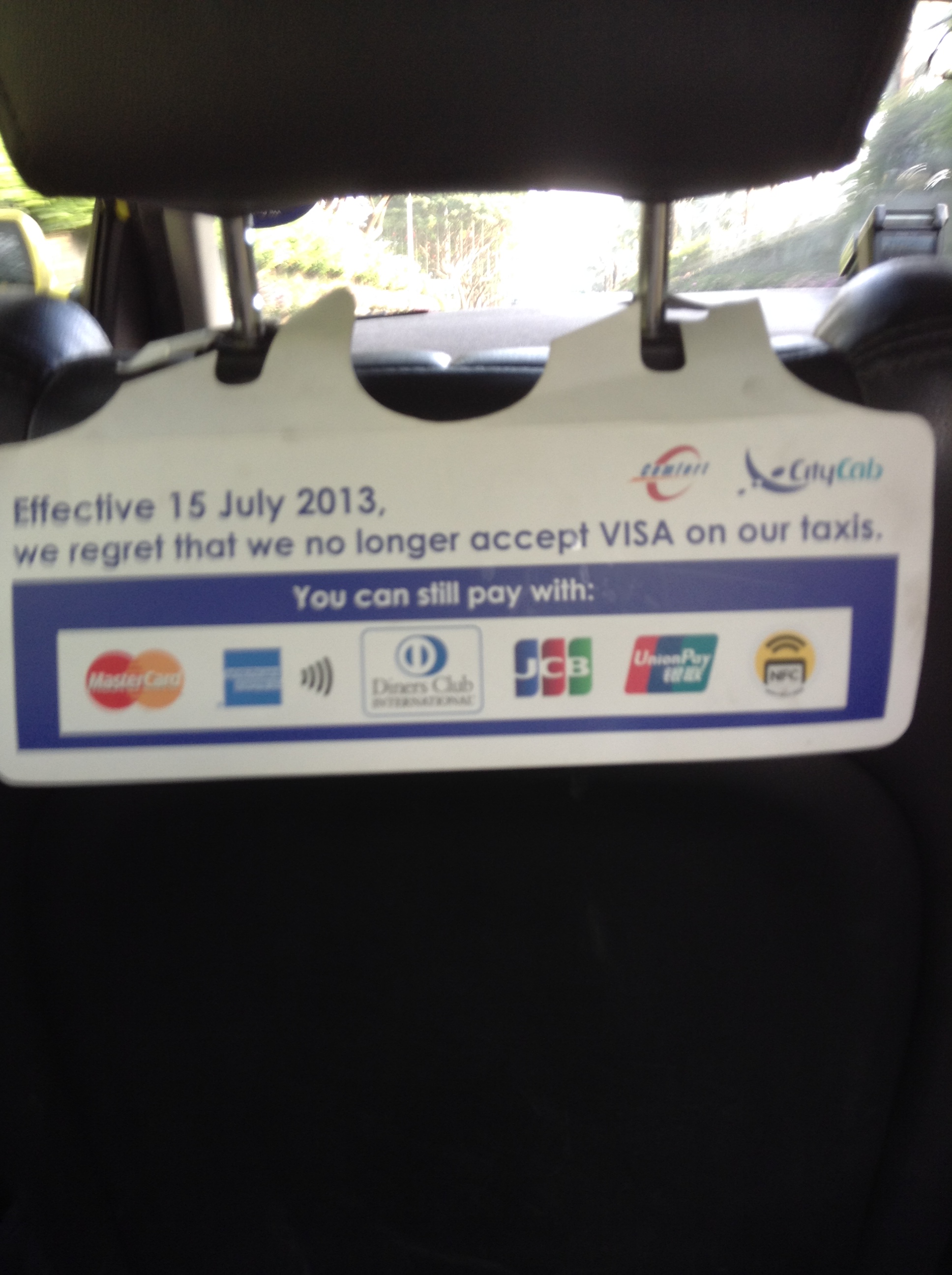 If you need a taxi in Singapore and only have a VISA card, plan on walking to your destination.
Effective July 15, 2013 VISA has rescinded authorization for all major taxi cab companies to accept the VISA card when paying for a taxi ride in Singapore.
The reason behind VISA's move was due to the imposition of a 10% surcharge on credit and debit card charges by Singapore's taxi companies.
Credit card companies have long sought to protect and expand their credit card franchise by opposing merchant surcharges.  A VISA spokesman said its actions were taken to order to "protect cardholders from paying additional fees simply for using their payment cards of choice."  In the judgment of VISA, consumers choosing to use their credit cards to pay for a taxi ride were being financially penalized. VISA also noted that the imposition of a surcharge to use their credit card was also a violation of contract terms.
After fruitless attempts to resolve the matter through lengthy discussions with Singapore's taxi companies VISA felt that it was in consumers best interest to terminate credit card acceptance.
Major Singapore taxi companies view the surcharge as necessary to cover the cost of providing customers with the option of paying by credit card.  Although this may be a valid point, it has long been general acceptance that using credit cards to pay for goods or services did not involve additional surcharges.
Customers still have the option of paying cash or using other major credit cards such as Master Card.  Consumers without cash and only a VISA card, however, will face disruptions in their travel plans and are likely to blame VISA for suspending credit card privileges when paying for a taxi ride.