According to Yahoo Finance, the number of Americans living in poverty is approaching levels not seen in 40 years.
The latest Census numbers won't be released until the fall, but economists surveyed by the AP project that the poverty rate will climb from 2010's 15.1% and reach a level as high as 15.7%. This will mean that more Americans are poorer than at any time since 1965.

The 2010 definition of "poverty" is annual income of just over $11,000 for an individual and $22,000 for a family of four. These figures will likely rise modestly this year.

When the next income demographic of "near-poor" is included, a huge percentage of the country is now living below or close to the poverty line.
Let's move beyond the sensational, ratings driven headlines and take a closer look at poverty in American.  What's not discussed in the article cited above is the massive level of government aid and benefits that allow low income groups to enjoy a life style far beyond the "definition of poverty" based on annual income.  In many cases, being poor in America means living just as well as your hard working "high achiever" neighbor who earns the median annual U.S. family income of $51,000.
The sensationalistic headlines about poverty levels also conflicts with results from the monthly Fannie Mae National Housing Survey.  Each month, Fannie Mae interviews a representative sample of 1,000 Americans about their views on housing and personal financial situation.  In the latest survey, Fannie Mae reports that the large majority of Americans expect their income and personal financial situation to improve or stay the same.  The survey results are totally inconsistent with the ridiculous assertion that "a huge percentage of the country is now living below the poverty line."  (For a full discussion of the Fannie Mae survey results, see Americans Remain Remarkably Optimistic About Housing and Their Personal Finances).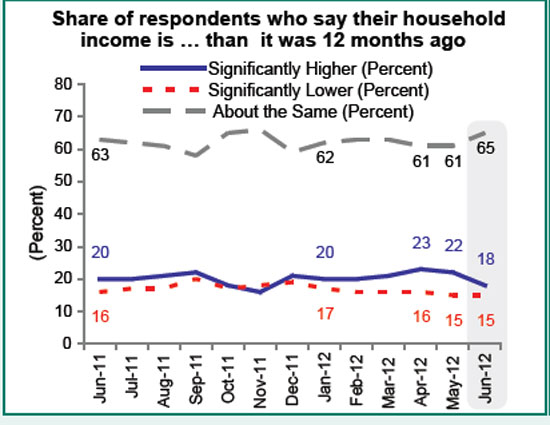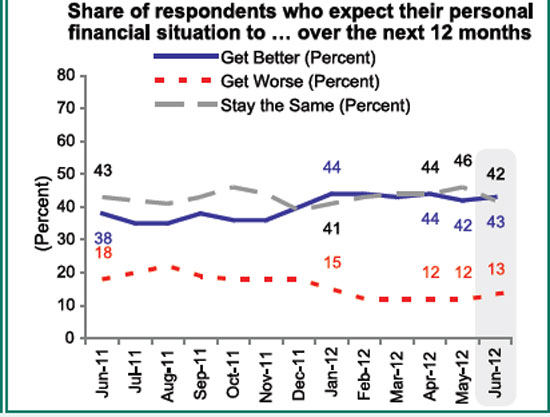 Also debunking the myth of a large number of poor Americans living in squalor and hunger is a study done by the Heritage Foundation.
Today, the Census Bureau released its annual poverty report, which declared that a record 46.2 million persons, or roughly one in seven Americans, were poor in 2010.

However, understanding poverty in America requires looking behind these numbers at the actual living conditions of the individuals the government deems to be poor. For most Americans, the word "poverty" suggests near destitution: an inability to provide nutritious food, clothing, and reasonable shelter for one's family. However, only a small number of the 46 million persons classified as "poor" by the Census Bureau fit that description. While real material hardship certainly does occur, it is limited in scope and severity.

The following are facts about persons defined as "poor" by the Census Bureau as taken from various government reports:

80 percent of poor households have air conditioning. By contrast, in 1970, only 36 percent of the U.S. population enjoyed air conditioning.
92 percent of poor households have a microwave.
Nearly three-fourths have a car or truck, and 31 percent have two or more cars or trucks.
Nearly two-thirds have cable or satellite TV.
Two-thirds have at least one DVD player, and 70 percent have a VCR.
Half have a personal computer, and one in seven have two or more computers.
More than half of poor families with children have a video game system, such as an Xbox or PlayStation.
43 percent have Internet service.
40 percent have an automatic dishwasher.
One-third have a wide-screen plasma or LCD TV.
Around one-fourth have a digital video recorder, such as a TiVo.
More than half have a cell phone.
42 percent of poor households actually own their own homes.
Only 6 percent of poor households are overcrowded. More than two-thirds have more than two rooms per person.
The average poor American has more living space than the typical non-poor person in Sweden, France, or the United Kingdom.
96 percent of poor parents stated that their children were never hungry at any time during the year because they could not afford food.
83 percent of poor families reported having enough food to eat.
82 percent of poor adults reported never being hungry at any time in the prior year due to lack of money for food.
Describing the average low income family as "poor" is a perversion of the word.  As the Heritage Foundation report notes, "Among families with children, the collapse of marriage and erosion of the work ethic are the principal long-term causes of poverty."  Neither of these issues are being properly addressed in the media hype over poverty.  Who winds up paying in the end?  A quick look at the national debt chart makes one wonder how long it will be before all Americans become truly impoverished.