Starbucks is more than a product.  Before the American genius named Howard Schultz started the company, coffee drinking was generally an uninspired encounter with poorly roasted robusta beans.  Starbucks revolutionized the coffee experience forever and in the process became one of America's greatest success stories.
Here's a two year old fan of Starbucks enjoying a hot chocolate drink.  His Mom says he won't drink any other brand of hot chocolate!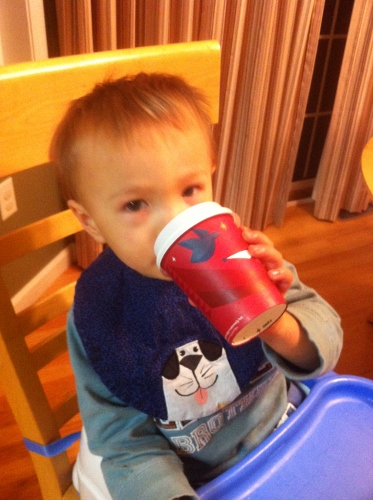 If Starbucks has already captured consumers by the age of 2, is there still room for growth?  Despite the expansion of Starbucks into international markets, there are still billions of consumers to reach in untapped markets, many of whom have never even heard of Starbucks.  During a recent visit to Asia, it was difficult to find a Starbucks store in many countries which is why I always travel with a good supply of Starbucks Via instant coffee.  While chatting with my personal butler Sokmen at one of Cambodia's finest hotels, he told me that he had never heard of Starbucks, upon which I provided him with a package of Via.
In this writer's opinion, Starbucks still has tremendous growth opportunities in both the U.S. and abroad.