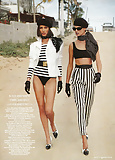 The Super Bowl generates a considerable amount of economic benefits to a wide variety of businesses including hotels, restaurants, and food and souvenir vendors.  Although it does not receive a lot of press notice, the Super Bowl also supercharges demand for less conventional needs of the party crowds attending the Super Bowl such as whores and coke.  Unfortunately for the supercharged group that wanted to make their Super Bowl outing more memorable the New York Attorney General initiated a crackdown.  And yes, if you recall, this is the same New York law enforcement agency headed by former Attorney General Elliot Spitzer who was once one of the best customers for call girls in the state paying upwards of $80,000 over several years to indulge in the pleasurable services of New York's finest women.
Eighteen people were arrested for allegedly running a prostitution and drug ring that marketed its services to visitors to the New York area for the Feb. 2 Super Bowl, the New York Attorney General said.

The ring sold "party pack" packages of cocaine and prostitutes and is estimated to have generated millions of dollars in illegal proceeds, Attorney General Eric Schneiderman said today in a statement.

"Drug trafficking and prostitution are a scourge on communities across our state," Schneiderman said. "My office will continue to work with our partners in law enforcement on multi-agency investigations like this one to take down networks of criminals who exploit women and poison our communities for profit."
Not content with ruining a lot of people's party plans the energetic agents of U.S. Immigration and Customs Enforcement put a lot of souvenir vendors out of business by confiscating what were described as counterfeit merchandise.
Separately, federal officials seized more than 200,000 counterfeit items worth more than $21 million including jerseys, baseball hats, T-shirts, jackets and other souvenirs, according to U.S. Immigration and Customs Enforcement.

Authorities arrested 50 people as part of an operation that began in June and targeted international shipments of counterfeit merchandise as they entered the U.S., according to a statement today from the enforcement agency.
I have nothing against discreet call girls an "honest" living doing what they do.  Realistically, prostitution has been a business for thousands of years and due to customer demand it always will exist no matter how much the authorities spend trying to stamp it out.  Now that marijuana is legal and states are basking in the glow of the huge revenue flows associated with state sanctioned sales, how long will it be before more states than Nevada make prostitution a legal business?