Many precious metals investors are worried that the United States may decide to confiscate gold again, as was done in 1933 when President Roosevelt signed Executive Order 6102.
Executive Order 6102 required all persons to deliver on or before May 1, 1933, all but a small amount of gold coin, gold bullion, and gold certificates owned by them to the Federal Reserve, in exchange for $20.67 (equivalent to $371.10 today[3]) per troy ounce. Under the Trading With the Enemy Act of 1917, as amended by the recently passed Emergency Banking Act of March 9, 1933, violation of the order was punishable by fine up to $10,000 ($167,700 if adjusted for inflation as of 2010) or up to ten years in prison, or both. Most citizens who owned large amounts of gold had it transferred to countries such as Switzerland.

Order 6102 specifically exempted "customary use in industry, profession or art"—a provision that covered artists, jewellers, dentists, and sign makers among others. The order further permitted any person to own up to $100 in gold coins (a face value equivalent to 5 troy ounces (160 g) of Gold valued at about $7800 as of 2011). The same paragraph also exempted "gold coins having recognized special value to collectors of rare and unusual coins." This protected recognized gold coin collections from legal seizure and likely melting.

The price of gold from the Treasury for international transactions was thereafter raised to $35 an ounce ($587 in 2010 dollars) resulting in an immediate loss for everyone who had been forced to surrender their gold. The resulting profit that the government realized funded the Exchange Stabilization Fund established by the Gold Reserve Act in 1934.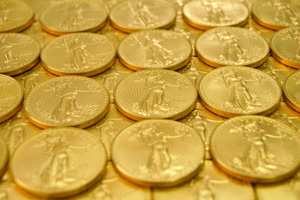 Since gold cannot be "printed" by the U.S. Government and competes with the paper U.S. dollar as a sound currency, various theories have evolved that gold investments of individual citizens may be at risk.  Jim Sinclair, a man who has an in-depth knowledge of the gold market and gold history, scornfully debunks the rumors of gold confiscation.
I am sick of all this confiscation talk of gold and even gold companies. It emanates from gold people who do not know or understand the history of gold. We condemn MSM for inaccurate, false and misleading news. I condemn gold writers who practice sensationalism, who offer their opinions as if they were facts and simply make things up out of thin air as if they were insiders privy to things that no one else is. Right now leaders of this community are printing stuff as misleading as MOPE or MSM ever have.

Apparently the Scottish hedge fund manager Hendrey, who is by his own admission "short some gold shares," is warning about confiscation without remuneration of gold companies above gold $3000. Either he has never studied gold history, or totally misunderstood its role in the 1930s.

Eric De Groot put what I have been trying to teach you perfectly today. In the 1930s gold was to the monetary system what QE is today, a means of increasing the supply of money for Fed and Treasury discretionary use. The US Secretary of the Treasury and President Roosevelt set the gold price higher at their daily breakfast together arbitrarily. Higher because to create money then the system required a higher value of gold to have more money outstanding. This is why Roosevelt ordered the confiscation of gold in order to unfold his type of monetary stimulation, his QE. This is what confiscationophiles simply do not know.

Your fears and the outrageous untrue statement by the Scottish hedge fund manager are based on totally wrong reasoning and misunderstanding. Gold was not confiscated because it was going up in price. Gold's order of confiscation came as a tool of monetary stimulation in order to create monetary creation in order to attempt to increase employment. The order of gold confiscation had nothing whatsoever to do with punishment of the gold holders. It preceded the then big run up in the gold price. Believers in confiscation, because they are incorrect on its basis, are totally wrong in predicting it. Those that predict confiscation of anything gold love sensationalism and benefit somehow from scaring the dickens out of you unnecessarily.

Gold companies will not be confiscated any more than oil companies were when oil traded at $145. You think this is some sort of punishment for profit? You are thereby fearing something that simply will not happen. You are like an Apple stockholder fearing that the government will confiscate their company because of the popularity of the iPhone.

I am sorry to see how gullible some of you can be. If you assume fund manager Hendrey was well meaning in his statement then he disqualifies himself from an understanding of gold's roll historically in monetary science. That then disqualifies his position actually published in this community. Any source that published Hendrey's false confiscation Dogma statement without this clarification is demonstrating the writer's ignorance of gold and its purpose in the 1930s. If you do not understand what gold was then you will never understand the new role that gold will play.

In terms of rumor control, Turkey has not remonetized gold by giving it Tier 1 status as an asset. Nobody can state as fact the condition of the gold deposits at the NY Fed or Fort Knox. You can speculate on what has occurred but what I hear being said so far is gold MOPE and gold MSM.

Please, my friends, keep your feet on the ground. Fund Manager Hendrey is totally correct on the gold price at $3000. I might add at $3000 plus.